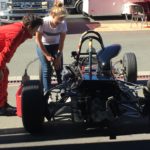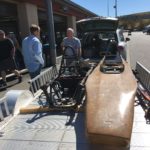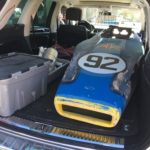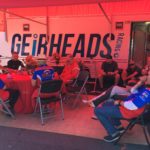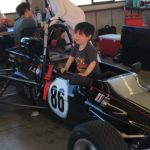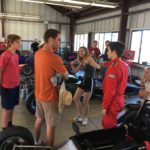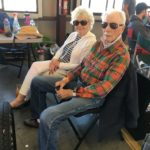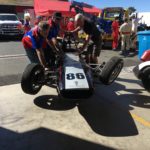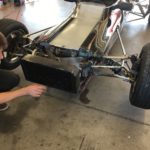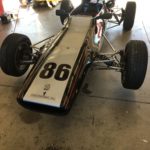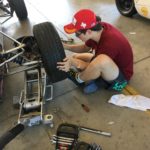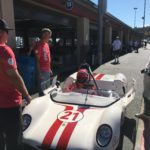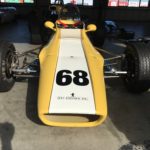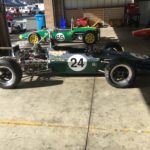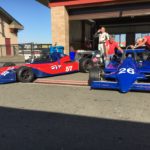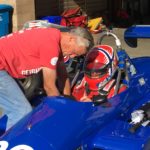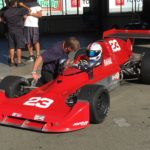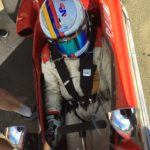 CSRG Charity Challenge Vintage Car Road Races [10/4 – 6, 2019] @ Sonoma Raceway
First place in the Crossflow Cup Championship race on Saturday, first place in the CSRG Charity Challenge Formula Ford feature on Sunday, plus a Historic Formula Ford track record in the yellow Titan driven by Art Hebert.
————————————————————
A Summary:
Art Hebert, racing the # 68 yellow Titan MK with a new Jay Ivey engine, took 1st place in Saturday's Crossflow Cup Formula Ford Championship while setting a new track record & continued to also take 1st in Sunday's main event race!
Gunnar got on the track for his second race, strongly handling a mishap & improving his times!
Andrew Wait, our Picchio sports racer teammate, qualified on the front row with Art on Saturday & finished 3rd. He repeated his podium finish on Sunday. In his First Formula Atlantic race, driving the Ex-Bobby Rahal Lola T360, Andrew finished an amazing 4th place! To top off the weekend, Andrew finished 2nd overall in the Crossflow Cup Championship, behind Danny Baker & ahead of Art who finished 3rd in the Championship standings.
Geir Ramleth had a superb weekend in his Lotus 23, finishing first in class, and second overall.
Alex Garden, in his ex-Canadian Formula Atlantic Champion Bill Brack March 78B that he purchased through Motorsports Market this year, finished 5th against some of the fastest Formula Atlantics in the country.
————————————————————
Our weekend began pitting in the paddock garages with Geir Ramleth. Thank you Geir! Tom Fallon & John Collins of Throttle Therapy Garage were looking after multiple cars for Geir, including a Ralt RT4 Formula Atlantic, Lotus 23, Titan Formula Ford & his Lotus 51, the original Formula Ford that got the whole series started back in 1967. Driving Geir's second Formula Ford was his son Oliver, who has just started racing & did a very nice job learning the car & track throughout the weekend with a methodical approach, improving each time out.
Also pitted with us was Mike Wirrick, driving his Lola T202 Formula Ford. Mike had just completed his own full restoration of the car & it was beautiful. He had good runs during the the Friday practice, sorting out the new car.
Tom & John had another car to look after, Alex Garden's March 78B that he purchased through Motorsports Market earlier this year. This is the ex-Canadian Formula Atlantic Champion Bill Brack's car from 1978. Tom & John's recent restoration of the car won them first place at the Concours d' Elegance in Elkhart Lake. The same weekend, Alex drove the car to an excellent second place finish at Road America. Alex is just starting his racing career & has already been on the podium twice in his first two races!
The Motorsports Market team with Gunnar & Art driving began practice on Friday. Gunnar & his friend/crew chief, Emma Wait, skipped Friday afternoon classes at Redwood High School to run the practice sessions.  (We're not sure if Emma Wait's dad, Andrew, and Gunnar's dad, Art, are good influences or bad, but the kids seemed like they were having a good time!)  Gunnar drove the black Titan #86 that Art raced at the Monterey Reunion in August. Art drove the yellow Titan #68 that we bought last fall & are working into good racing shape.
Gunnar did a great job watching his mirrors for the faster Formula Atlantics & other big bore cars that were on the track at the same time with us during practice, & he got down to 1.52's, quicker than he had ever gone before. The yellow Titan had a new Jay Ivey engine & was much quicker than when we ran the car earlier this year at Sonoma, despite running a little hot.
Saturday morning qualifying saw Gunnar qualifying 15th/35 cars, in only his second race, while driving around a major understeer problem which we still need to sort out. All things considered, Gunnar did a great job! The yellow Titan came to life with the new Ivey engine during qualifying, an amazing performance increase. We finished something like 13th at Sonoma earlier this year with the original engine. Now with the new Ivey engine, the car went right to the front.
Mike Wirrick was not so lucking during qualifying. Coming out of turn 11, the car snapped left & collided with the concrete barrier. The bodywork, radiator, coolant lines & brackets were crushed. Undaunted, we all rallied around Mike & worked to get the car back together. Alex Garden jumped in hammering pieces back into shape. Chris Porritt, who races a similar Lola T202 but was not racing that weekend, just happened to tow a trailer full of Lola FF parts, including two old frames, old bodywork etc. to the track. Who does that? Who tows a pile of old spares to a race track, especially when they are not racing? Chris Porritt, that's who. It was like a miracle. He had enough old pieces, including front bodywork, that we were able to fabricate things back into place so Mike could run on Sunday. Tom, John, Mike, Chris, Doug Peterson & several others all jumped in to help out. Formula Ford racing is a real community & we all help each other. Great stuff! 
The final race of the Crossflow Cup Formula Ford Championship started at 2:00 p.m. on Saturday.  Art shared the front row with Motorsports Market Picchio sports racer teammate Andrew Wait. Bob Lesnett, in third, got a huge jump at the start & lead heading into turn 1. Art pulled alongside Bob heading into turn two. As they exited the corner, the yellow Titan was in 1st, with Bob, Andrew, & Danny Baker right behind.
Meanwhile there was fabulous, wheel-to-wheel, racing throughout the rest of the grid. Gunnar was holding his own in a 5-7 car mid-pack scramble &continued to improve his lap times during the race. Unfortunately, with two laps to go he & another Formula Ford collided in turn 7. Thankfully no injuries beyond some bruises & sore muscles. However, the black Titan suffered broken front suspension & was out. The other car was able to carry on.
While Gunnar was having drama in the middle of the pack, the yellow Titan continued to lead to the finish. We were told the yellow Titan set a new track record for Historic Formula Ford.  Amazing.
It was an up and down weekend for the team; a first place in the Crossflow Cup Championship race & a broken race car. However we got another first place on Sunday in the main event race. Geir Ramleth had a superb weekend in his Lotus 23, finishing first in class & second overall. Alex Garden finished 5th against some of the fastest Formula Atlantics in the country. He served notice that he will be a force to be reckoned with in Formula Atlantic.
–