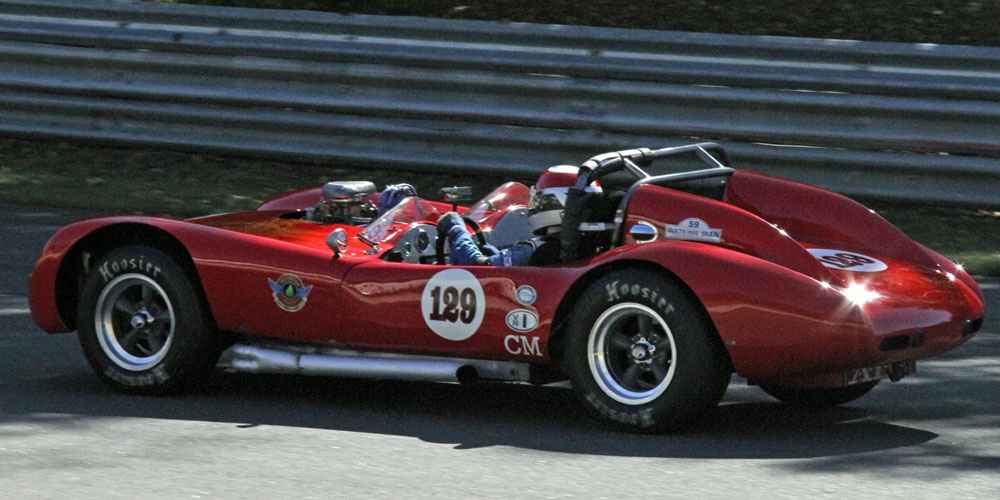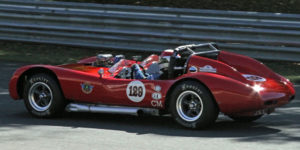 History
Restored in 1999 by Doug Karon in Minnesota. Has competed in the Midwest and East Coast and Canada. The current owner has raced the Devin since 2012 and won most races entered including Mt Tremblant, Legends of Motorsport, Canadian Historic Grand Prix 2014, SVRA Watkins Glen 2014, to name a few. Many improvements have been made. The Car is race ready and reliable.
Description
This Group 4 Devin is powered by a 331 Chevy V8 with a Holly 750. Ignition is by Don Zig magneto. The Chevy produces 450 h.p. with the power driven through a Tilton triple disc clutch and flywheel to the Borg Warner Super T-10 transmission with Hurst shifter.
The Devin has a 56 Chevrolet front chassis with power steering and a rear square tube frame. The front suspension was rebuilt in 2014. The rear end is a 3.7 ratio Ford 9 inch with a True Trac differential and three link panhard bar. Shocks are Afco double adjustable – new in 2013. Brakes are Wilwood disc. Wheels are American Racing with Dunlop L 650 X 15 tires. The body is Devin fiberglass.
The Devin has a 22 gallon ATL fuel cell, and Afco aluminum radiator. Seatbelts are Schroth and the fire system is SPL 4L. The car comes with a complete spare set of Halibrand wheels.
The Devin is in very good condition and ready to go.