1975 Lola T360 Formula Atlantic
Ex-Bobby Rahal. Accepted for Monterey. Great Masters Car.
Sold May, 2022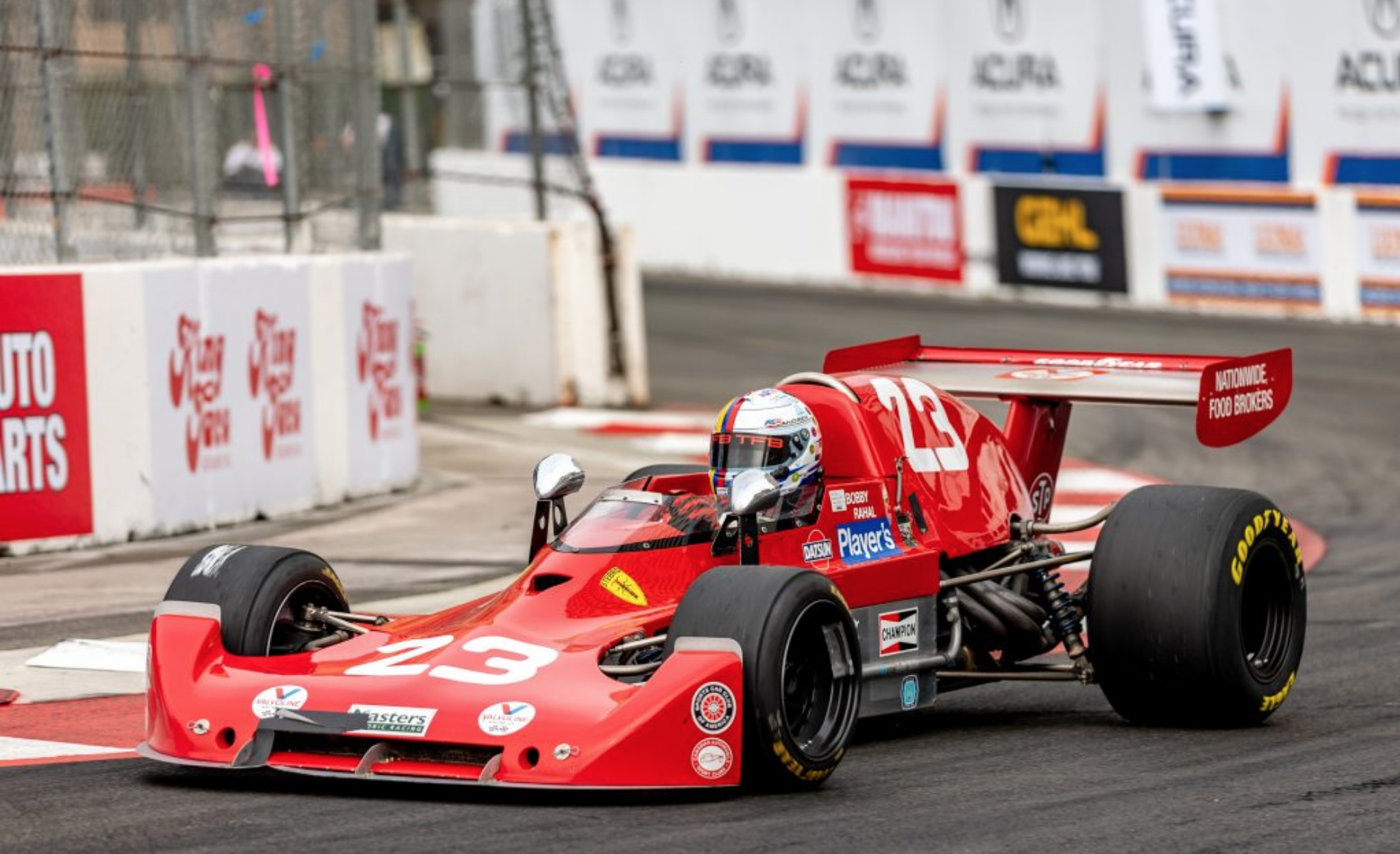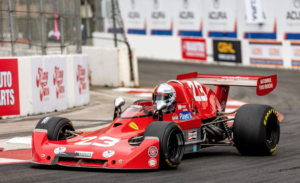 History
The following purchase history for Rahal's chassis HU9 is reported by OldRacingCars.com below.
"Lola T360 [HU9] (Bobby Rahal): Paperwork supplied by Bobby Rahal plus the logbook gives the full history of this car.
Ordered from Lola 17 Oct 1974, after a visit to the factory. Haas order number 36005 17 Oct 1974 for Rahal. Consigned by Lola to Haas 26 Nov 1974, colour red, rolling chassis with Hewland FT200/975.
Invoiced by Haas to Rahal 6 Jan 1975, invoice number 8888, chassis number on both Haas invoice and Lola data sheet; gearbox number on data sheet and Lola sales record. Probably unique amongst T360s in that the brakes were originally fitted with four-pot Lockheed calipers (at Rahal's specification on order number 36005R) rather than Girling AR4."
On May 25, 1975, Rahal qualified the Lola 2nd at the first Players Challenge Formula Atlantic race of the season at Edmonton. He followed that up by qualifying on the pole at Westwood on June 1, 1975, and finished 6th.
Rahal finished second with the Lola to Gilles Villeneuve at Gimli FA race on June 22, 1975. The car was #23 and sponsored by Red Roof Inns. The Lola was later sponsored by Capricorn Racing.
Rahal and the T360 finished second to Bill Brack at the SCCA race at Brainerd on September 7, 1975, this time with Crescent Valley Foods sponsorship.
While Rahal was enjoying successes with his Lola T360, he was not the only one.  Ted Wentz, racing in the U.K. won the 1975 Southern Organs Formula Atlantic championship with his T360 beating out Tony Brise and Gunnar Nilsson. He also took  5th in the John Player Championship, claiming the outright win at Silverstone along the way. The following year Tony Trimmer used Wentz's Lola T360 to win two IndyLantic (Formula Atlantic races with Indy-style single car qualifying) races at Brands Hatch.
Tom Klausler won several rounds of the Players Formula Atlantic Championship with his Lola T360, including a victory at the Molson Grand Prix at Trois-Rivieres. He would go on to finish 2nd in the Championship. Klausler's teammate, Bill O'Connor, raced his T360 to victory in the Formula Atlantic support race for the U.S. Grand Prix at Watkins Glen. 
For more on the successes of the Lola T360 cars, and their specifications, please see the Lola Heritage website.
In early 1976, Rahal sold HU9 to George Herscher. OldRacingCars.com reports the subsequent history as follows:
The car was sold "with engine, spares and trailer; chassis number on bill of sale. This confirms the record of vehicle ownership in the logbook that accompanies the car.
Herscher used the car in SCCA NE and SE divisions, replacing his Lola T240, whilst at the same time advertising it in Autoweek throughout much of 1976. Returned to Carl Haas in May 1977 and sold by him to Paul Kelleher in October 1977. Kelleher was a Cen Div SCCA driver, having previously raced in FC, but does not score points at national level in the period when he owns the car.
Sold by Kelleher to Art Filip (Chicago) in March 1979 and raced in SCCA Cen Div. Retained by Filip until May 1989, then to Dennis Tobin, before being returned to Haas in February 1990.
Sold almost immediately to Carl Thompson, who retained the car until February 2000 when Rahal bought it back. Retained by Rahal until sold late 2012 via Grand Prix Classics (La Jolla, CA) to Steve Miller (Cape Town, South Africa). It was then sold to Brad Oldenbrook around 2015, and from him to Andrew Wait (Greenbrae, CA) in May 2019."
More information, and photos of HU9 in earlier vintage races, can be seen at ConceptCarz.com
In the last two years the Lola has consistently finished in the top five in the highly competitive western U.S. Historic Formula Atlantic series, and in the Masters Formula Atlantic Plus Series, including podium results.
In September, 2021, the Lola climbed from back in the grid up to P4 in the Historic Formula Atlantic support race for the Acura IndyCar Grand Prix of Long Beach before a balking gearbox lever let the car down. The car has since been repaired and performed perfectly at its most recent race, the Masters Formula Atlantic Plus race at Sonoma Raceway.
The Lola is ready to go.
Description
During Rahal's second period of ownership of HU9, starting in February, 2000, he had the car fully restored. Records and photos of the restoration will accompany the car.  During this restoration, Rahal had the tub re-skinned by U.S. monocoque specialist, Marc Bahner.
The Lola is currently maintained by a pro shop that runs F1 and Atlantic cars. There are two weekends on the car's fresh Ivey engine, twin plate clutch, and Hewland FT200 gearbox. Receipts available. 
The Lola is equipped with Lockheed CP 2361 four piston calipers at the front and CP 2340 calipers in the rear, all with vented discs. The car is sprung by Koni double adjustable alloy shocks covered with Eibach springs. 
In the cockpit is a Momo removable steering wheel. Instrumentation includes a Smiths chronometric tach and RaceTech gauges with new wiring for all gauges and switches. The Willans belts are good through the 2022 season. The HU9 chassis tag is mounted on the tub in front of the dash on the right side.
The Lola currently rides on Goodyears, but runs competitively on both Goodyear and Avon tires.
The Lola comes with extensive files. These include, but are not limited to, complete ownership history, racing history, period racing photos, restoration records and photos, car specifications, etc. The car also comes with FIA HTP papers. In addition, the records include Rahal's first logbook for the car, showing all the early races, and his original purchase documentation with Lola dating back to October, 1974. 
The Lola qualifies for, and should be a top competitor in, the Historic Sports Car Club ("HSCC") F2 Championship in the Vern Schuppan Trophy category for 1600 cc Atlantic cars raced before December 31, 1975. The car qualifies for, and runs at the front of, the Masters Formula Atlantic Plus series, as mentioned above. It is welcome at Historic Formula Atlantic grids worldwide, including premier events such as the Monterey Reunion and Long Beach. Incidentally, both Bobby and Graham Rahal came by to see the Lola and say hello in the paddock at the 2021 Acura IndyCar Long Beach Grand Prix.
The Lola is also being offered at a highly attractive price. Compare this car, its history and proven performance, with other flat bottom Formula Atlantic cars of the period and we think you will find this to be among the very best buys anywhere, if not the very best. The Lola also comes with an extensive file and documentation directly from Bobby Rahal.
We can help with shipping domestically and worldwide. Just let us know your nearest port and we can get you a quote. 
This is a great opportunity to acquire a piece of Formula Atlantic history. This was a pivotal car in Bobby Rahal's career that would see him rise to become an Indy 500 winner, Indy Car Champion, and F1 driver. It can also be acquired right now for an excellent price.
Win-win. 
Please feel free to call Art directly at 707-328-2452 with any questions, or for any additional help in acquiring the Lola. The car is currently on display in our showroom in San Rafael, CA. You can come by to check it out, hear it run, and try it on for a test fitting.
All vehicle descriptions are accurate to the best of our knowledge at the time of writing. Corrections, and supplemental information, are always welcome. Buyers are responsible for confirming vehicle histories, condition, and authenticity to their own satisfaction prior to purchase. Motorsports Market is not the owner of the vehicle and assumes no liability for errors and omissions.
(c) 1996-2021, Motorsports Market. All Rights Reserved.
Questions, Comments, Offers?
Please Contact Us if you have any questions or comments, 
or would like to make a non-binding offer.