1975 Lucas 2 liter Sports Racer
Cosworth BDG 2 Liter
Estate Sale. Price drop to $125,000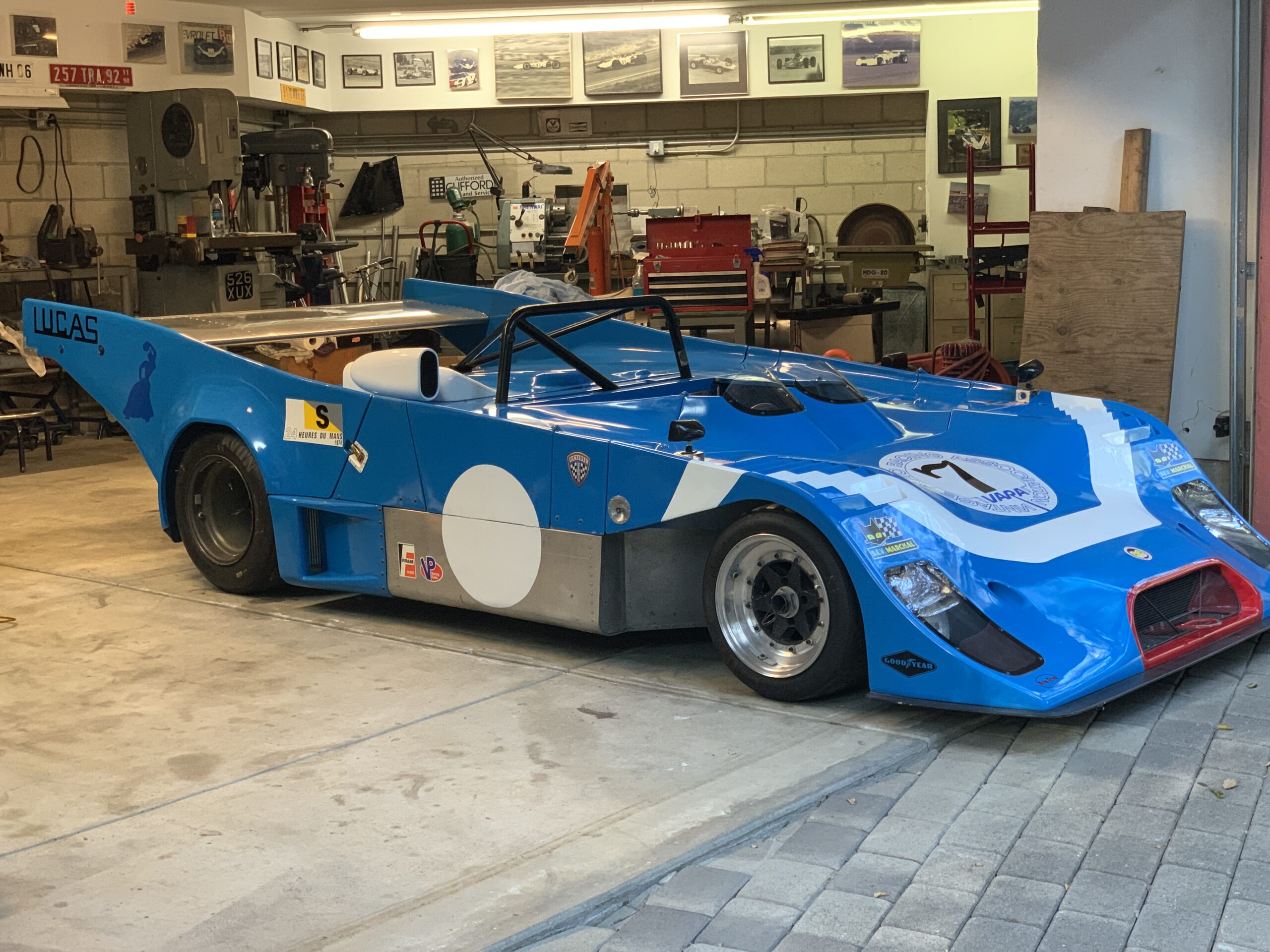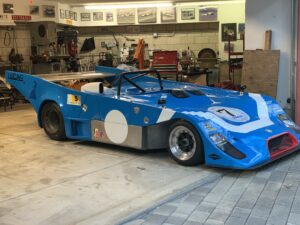 History
Chassis No. JN4.
The Lucas comes with period racing records and articles. They were provided by J.C. (Jean Claude) Lucas. It is understood that he is the founder of Automobile de Courses Lucas (Lucas Racing Cars), and that his son, Jacques, also raced another of the Lucas 2 liters. Both drivers appear in some of the race results driving different Lucas cars.
These records and articles are all in French, which presents a challenge for us in interpreting the information. Having said that, and using Google Translator, a reasonable picture of the car does begin to appear. 
As best we can tell from what the owner has told us, what the records show, and what the period and current photos depict, this Lucas was the original prototype. It is the only Lucas we have found with the dual cockpit/windscreen arrangement. Also consistent with a prototype, the car also appears in photos with virtually no sponsor decals or livery compared to the other Lucas entries. The distinct lack of livery can be seen in the photos below that show the car competing at the Bugatti Circuit portion of 24 Hours of Le Mans circuit in 1979, as well as at Foret Auvray. 
The Lucas also comes with a Federation Francaise Du Sport Automobile technical passport. See sample photos below. This passport logs racing events from 1987 through 1989. The first owner listed in this passport is Henry Gerges, but it is not yet clear when Gerges acquired the car. It may have stayed with the Lucas works, racing in the 1970's and early 1980's until acquired by Gerges in the later 1980's. 
Later in the 2000's, the car was acquired by its current owner. The Lucas is now located in California and is eligible for historic racing.
Description
The Lucas is very similar in construction to the 1972 Chevron B21 2 liter sports racer, but with the sleek long tail later appearing on the 1976 Lola T296
It has a new, zero miles aluminum Cosworth BDG. Hewland FT200 gearbox. All new Aeroquip lines. Peterson dry sump system. 10×13 inch Gotti wheels in front and 15×13 in rear.
Original chassis tag and FIA tag.
We can assist with shipping domestically and worldwide, as well provide escrow arrangements for secure handling of purchase funds, etc.
This is a great looking, unique, simple to maintain, 2 liter sports racer. It has been sitting for the past few years and needs a thorough going through before being raced. However, at this price, it is a great bargain and will be a real crowd pleaser on the grid.
All vehicle descriptions are accurate to the best of our knowledge at the time of writing. Corrections, and supplemental information, are always welcome. Buyers are responsible for confirming vehicle histories, condition, and authenticity to their own satisfaction prior to purchase. Motorsports Market is not the owner of the vehicle and assumes no liability for errors and omissions.
(c) 1996-2023, Motorsports Market. All Rights Reserved.
Questions, Comments, Offers?
Please Contact Us if you have any questions or comments, 
or would like to make a non-binding offer.