1979 Edmunds/Autoresearch Formula Super Vees (2)
Sold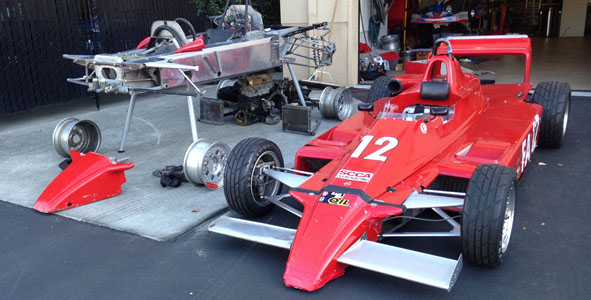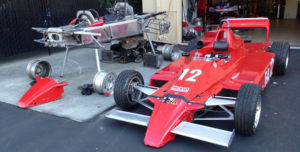 History
The Autoresearch Super Vees were designed by David Bruns, designer of the SCCA pro and national Championship winning ADF and Swift Formula Fords, and the Swift Formula Atlantic cars. The cars were constructed by Indy Car builder, and 1957 Indy 500 Rookie of the Year, Don Edmunds. Seven cars were constructed. Included in this sale are chassis number 4, and a second chassis, possibly number 7.
Chassis number 4 was raced by future Indy Car racer, Stan Fox. Fox ran the factory backed car supported by builder Don Edmunds and Steve Lewis. The car ran in the Bosch Pro Series in the early 1980's. It's sister car, driven by Dave McMillan, finished 5th in the Series Championship racing against the likes of Michael Andretti, Al Unser, Jr. and Ari Luyendyk, driving Ralt RT5's. The Fox car was sponsored by Pabst Brewing Co., as seen in period photos.
After the pro series, the Fox car became part of a five car Autoresearch team in the early 1990's, run by Mike Alfred. Alfred ran his cars in the Northern California SCCA Formula Atlantic Series with several other drivers. One of the cars won the SCCA Northern Pacific Formula Atlantic Championship. It is unknown at this time, which car it was, but it was most likely the Fox car, or the McMillan car, as they were the two factory built ground effects cars. Incidentally, the ground effect side pods and skins on the Fox car are made of lightweight aluminum, unlike those on the competitor Super Vees. It was also during this time that Mike bought out all the remaining spares for the cars at the former Autoresearch factory in Southern California, then run by David Bruns and Swift cars.
After the being part of the Alfred team, the car was sold to Chuck Blair, also of Northern California. Chuck raced the car into the late 1990's. At some point the nose and front wings were damaged, the right front side pod and the rear wing took some damage as well. Thereafter the car was disassembled for repair. The car remained disassembled in Chuck's basement for a period of years. In 2013 the cars and all the parts were purchased by its current owner who intended to restore it, but did not get around to it.
Basically chassis #4 has been stuck back together but not much further has been done. The engine does turn over and has oil pressure. It was reportedly rebuilt, but who knows? What we do know is that the engine was on an engine stand when purchased, and that it was very clean with what appeared to be new gaskets on it and no evidence of having had oil or water in it. So maybe it was rebuilt. We don't know. The ignition and fuel systems have not been assembled at this time. The brakes and clutch (a Tilton) also operate.
The second chassis/tub appears to have been raced, and appears in good condition. Aside from the cockpit surround which is missing, it appears there may well be enough parts to assemble this second car as well, plus have a lot of spares still left over. The photos only provide a small snapshot of what all is in the boxes and comes with the cars.
This is a serious project, but one we believe is a good one. Don Edmunds is still around in Oregon and so is Mike Alfred in So.Cal. Both are very interested in helping this (these) car(s) get back onto the track. They are a wealth of knowledge and super nice.
These U.S. designed and built cars took on some of the best formula car manufacturers of the day, including Ralt, March, Lola, Anson, Argo, Martini, and others, and on any given day beat them. We hope someone brings these cars back to the track and tells the Autoresearch story. It is a great American David and Goliath story.
The cars and parts are priced to sell at $12,500.00 for everything
Description
We believe the car to have a 1600 c.c. engine, and it appears to have Carrillo rods in it. However at different points Formula Super Vee allowed engines up to 2 liters, depending upon induction systems being used. So what the engine actually is, we do not know. It is noteworthy that these cars were also raced as Formula Atlantic with 1600 c.c. engines. They are currently accepted to competitively race with vintage Formula Atlantic cars, and at a fraction of the price to own and maintain compared to the Atlantic cars.
The Super Vee has twin 42 Webers, plus boxes full of other potential intakes. The gearbox is a Hewland Mk.9 with a Tilton clutch and inboard disc brakes. We do not know the condition of the gearbox, nor what gears may be in it. There are a few spare internal gearbox pieces including some gears and at least parts of a differential.
There are many spare factory aluminum body pieces, some brand new. There is a spare nose, and many spare wings too. There is a fire system on the car, but it is probably the original one and worthless, but at least you can see how it should be mounted inside the tub. There are boxes and boxes of spare uprights, A-arms, trailing arms, tub pieces, axles, engine blocks, drilled cranks, heads, valve trains, cams, engine gears, etc.
There is a box just of brake parts, including some brand new calipers, drilled rotors, etc. There are some 10 or more original Speedline Wheels (Speedline sponsored the Autoresearch Super Vees). There are spare gauges, radiators, frame pieces, headers, collectors, a nose mold, Carrillo rods, pistons, new valves in boxes, etc. There are boxes of spring sets, and several dry sump oil pans. There are multiple gearbox adapter plates.
This is just the tip of the iceberg. Feel free to come by and do your own inventory. There is a lot of stuff. By the way, the second chassis still has its rack and pinion installed, a quick release steering wheel, and other hardware. In addition it has the rear chassis assembly for the full rear bodywork and ground effects system. Perhaps that is why this chassis was disassembled at some point, so the spare ground effects parts could be installed on it. It is all a fun mystery and a great project.
Chassis Number: 04 and uknown