1980 March 80A Formula Atlantic
Only $50,000.00!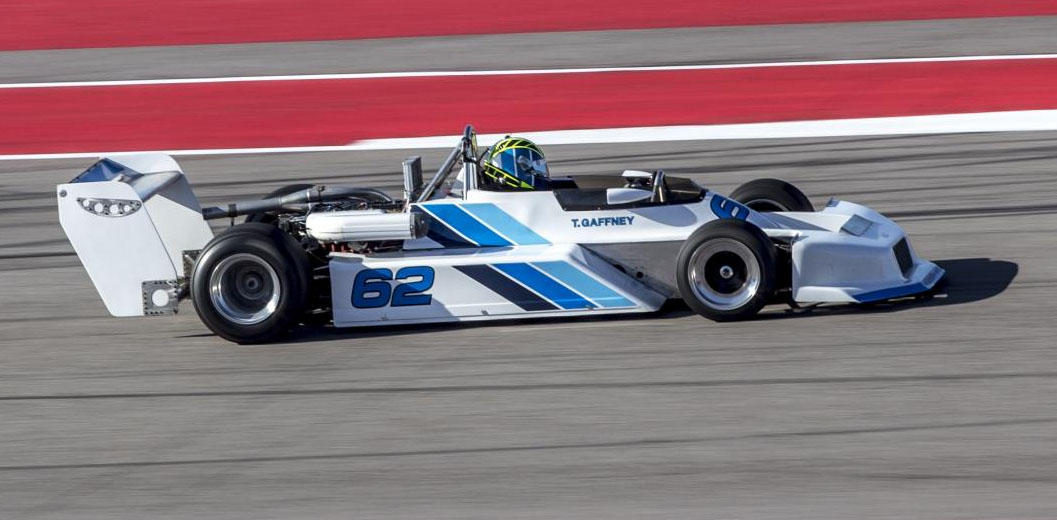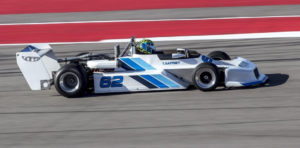 History
The March was purchased most recently in 1996, from an SCCA club racer. No pro racing history has been discovered to date.
The March is configured with solid rear rotors, which was usually a sign that it was an SCCA National car. When last purchased the car had a modern nose box, pointy nose, and 2 front wings. This system was built by Pat Prince and is still with the car. The side pods were the original ground effect side pods. The March was converted back to the sports car nose, and March 79B style side pods were installed for vintage racing.
The March has been raced approximately 10 times over its most recent 20-year ownership period. It has two races since a full tear down and restoration, which is detailed below. This 80A has never had an accident and shows no cracks or repairs.
The March competed in the Formula Vintage race at the 2014, United States Grand Prix in Austin, Texas. The March was one of a group of Formula Atlantics invited to race in the support race for the Formula One race. The March was leading when a cracked header caused the car to drop back to second in the waning moments of the race. It is a top notch, front running, flat bottom, Formula Atlantic.
The March also comes with two unusual documents. The buyer will receive the original test and set up notes from Doug Shierson Racing generated when his driver, Price Cobb, was developing the first 80A in the USA. This 15-page document has notes, service information, and gear charts for 20 tracks around the USA. The other document is the original parts list, and vehicle build directions, from the March factory.
The March can comfortably fit drivers over 6'2," which is unusual to find in an Atlantic car.
This flat bottom Formula Atlantic March 80A can be used to race with SVRA, CSRG, HMSA, HSR, at the Lime Rock Vintage Fall Festival, Road America, etc. It may well be the least expensive, front-running, historic Formula Atlantic available anywhere. This would be a great car if you want to move up from Formula Ford, or Formula B. These cars are also well known, with available parts, and track side support.
Description
Overall
• 180 miles on full engine rebuild by Ted Wenz at Savannah Race Engines, 235 hp, 150 lb ft
torque
•Show quality paint and decals
•The March was fully disassembled and every rivet checked on the car.
•1 vintage race weekend since rebuild
•Current configuration is "Flat Bottom" with 79B side pods
•The March also has its original March factory aero style mirrors.
Engine
The engine in the 80A is almost new. Aside from the head, cam carrier and valve cover, virtually every part is new.
• 4 bolt head,
• Later version "solid" cam carrier (rare)
• New Moldex crank, Cosworth DFV rods, new Carr rod bolts,
• Special Jennings .440 lift cam
• New "Big" valves, new valve springs, buckets and keepers
• New sleeves in block
• March 80A cast alloy pan
• Integrated water pump pulley
• special March oil pump with integral oil filter, New oil cooler
• Electromotive ignition system
• "long" Jennings intake manifolds
• Webber 48DCOE SP carbs
Gearbox
• Rebuilt by Averill Racing Stuff
• New 9-31 ring and pinion
• New inner and out cam tracks with chicklets
• New dog rings (with spares)
• Large cast magnesium adapter has fresh di-chromate coating and no cracks
• Rebuilt shift linkage – also new shifter knob designed to give more leg room for the driver
Suspension
• All suspension has been disassembled and checked.
• Rear uprights have a Shierson developed fix that puts radius rod mount into double sheer, thus reducing the common problem of cracking
• Front suspension is painted gloss black
• Rear suspension has a polished nickel finish
• Rebuilt Koni 8212 double adjustable shocks by True Choice Motorsports
• Rear sub assembly casting has been re-machined to remove play
• New very rare rear wheel bearings
• New rear roll bars
• New brake rotors, front and rear
• New brake pads (1 race weekend)
Body
• Body is in outstanding condition with zero repairs
• New main cockpit section was purchased from the UK
• Car currently has March 79B side pods so that it conforms to the "flat bottom" rules for vintage racing
• Paint is concourse condition and cost over $4k.
Other Parts
• New custom wiring harness done by Ray Grienkie. Grienkie was the wiring guru for Champion Audi when they ran the factory R8 program in the USA
• Large Varley red-top battery
• New SPA Tach, New SPA steering wheel with built in shift lights
• New Tilton brake bias adjustor
• New rear wing main plane
• New SS coating on headers
• New Tilton XLT superlight starter
• New nose frame
• 2 sets of wheels
• New Spa steering wheels with integrates shift lights
• New fuel cell
• Fully rebuilt brake system
• Powder coated and safety wired caliper caps
• New wind screen
Spares
• Spare set of wheels
• Wheel parts (inner and outer hats, extra center hubs)
• Front rocker
• 2 front uprights (new)
• 1 rear upright – with new di-chromate coating, bearings, and mounting tabs
• Rear suspension sub frame
• 2 rear lower a-arms
• 2 Electromotive ignition boxes (with 3 spare pick-ups)
• Oil lines, Radiator
• 15 FT gear sets – plus what is in the car
• 1980 side pods,
• Spare nose (new with matching white new paint)
• Throttle cable
• Front lower a-arm
• Radius rods
• Tach
• Steering wheel
• 1 Pat Prince nose and mold
• 1 Steel oil pan
• 1 Radiator
• 1 Tach cable
• 1 Upper rocker arm
• 4 Sets of front springs
• 2 Sets of rear springs
• Brake pads, 4 Brake pistons
• Skid blocks
• 1 Shock
• 2 Oil coolers
• Engine bearings
• Carb parts
• Ignition boxes with distributor
• Throttle cable
• 1 Rear tie rod
• 1 Front tie rod
• Timing belts
• 2 Starters
• 1 Set of rear wing uprights
• Shock parts
• Misc. clutch parts
• Original SCCA log book
• Original set up notes from Shearson and Price Cobb
• Known history. Always run in the South East
The March is in excellent condition. It is fully sorted by one of the quickest Formula Atlantic drivers in the U.S. The car is truly ready to go on a race track today. This is not one of those cars that you buy and find out that all the key parts are worn out. It also comes with prodigious, meaningful, spares. Additionally, the March comes with detailed records of all the work performed on the car – a must when buying a top Formula Atlantic car. A spare tub with additional parts, may also be available at an additional cost.
Chassis Number: 80A-14