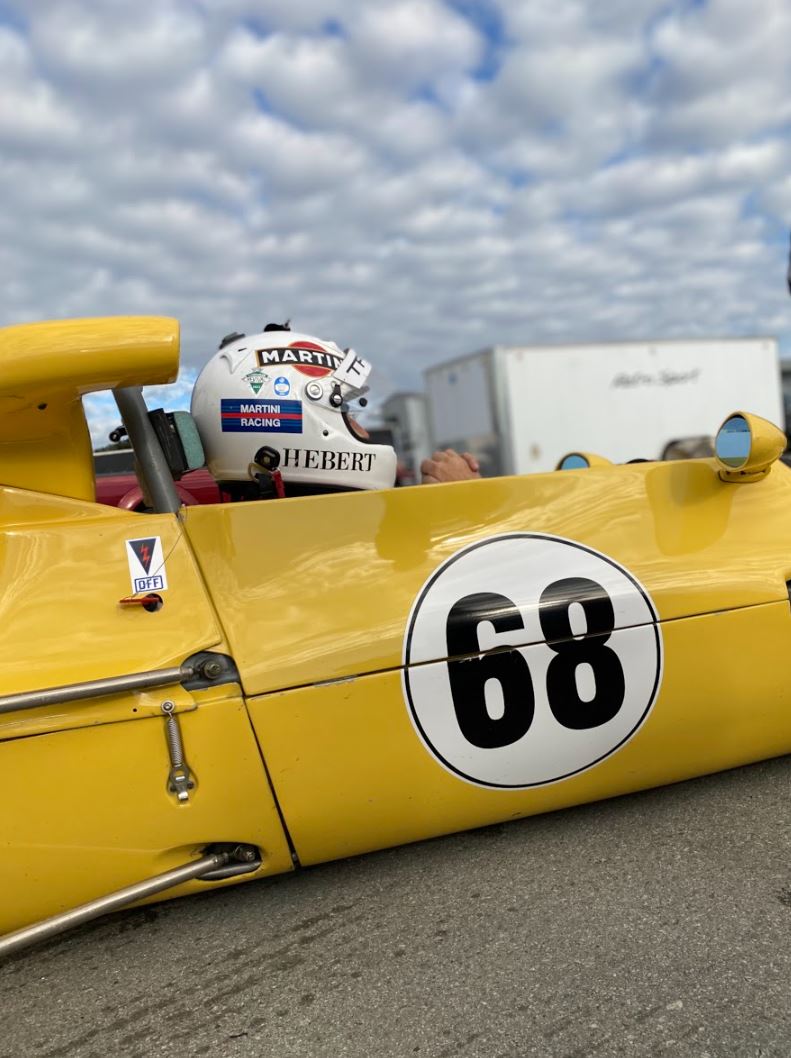 2023 Crossflow Cup Final Weekend at Laps for Laguna
October 15th, 2023
October 13-15, 2023 Historic Formula Ford Championship and Top Gun Shootout!
Laps for Laguna; Art and Kevin were both out at Weathertec Raceway for the CSRG event.
Art was on the track in the yellow Titan Formula Ford in the final two races of the Crossflow Cup championship, and the 'Top Gun' extra Formula Ford race on Sunday.
Kevin raced the black and red Apache Sports 2000 in the commonly called "Wings and Slicks" group -a mixed-class group that contained primarily Formula Atlantic cars, Sports 2000, and an incredible Mario Andretti Lotus Formula 1 car.
"We arrived to gorgeous fall weather at Laps for Laguna. Kevin and I both tested on Friday and continued to work on getting quicker.
For me this was the final Cross Flow Cup race of the season. The Historic Formula Ford Championship was on the line. There were four contenders, Andrew Wait, Martin Lauber, Steve Romak, and me. 
Andrew ran in the front pack for both races and became the 2023 Cross Flow Cup Champion! Martin turned in excellent performances in both races and claimed second spot in the Championship. He was also the MC for the Saturday night fundraiser dinner at the track with Colton and Bryan Herta. Well done!
Steve Romak and I battled for third. During the first race Steve and I slid side-by-side through the entire famous Laguna Seca Corkscrew. At the finish Steve crossed the line just 6/100's of a second ahead of me, putting him squarely into third spot in the Championship. We both exchanged thumbs up and big grins during the cool off lap. 
Unfortunately we did not get a chance to go head-to-head in the second race. Steve got taken out by another car during qualifying for the second race. That provided me the opportunity to gain enough points by finishing 4th in Historic Formula Ford in the second race to claim the final podium spot in the Historic Formula Ford Championship. 
The final race of the weekend was the "Top Gun Shootout". Participants included 2023 season race winners, pole position holders, and those who passed the most cars during races. Danny Baker came home first followed by Brian Swanson and Oliver Ramleth, both of whom made major strides during the season. We wound up fourth and were honored just to be a part of the group.
All of us Cross Flow Cup competitors are now looking forward to the Cross Flow Cup Awards dinner in December at Shippert Racing Services. We will enjoy great food, great stories, and great camaraderie. That, and great racing, is what the Cross Flow Cup is all about." – Art
"It was such a great sight to see when our fellow S2 competitor Steve Hoogs showed up to play. It made for great back-and-forth battles between us which apparently became the talk of the sessions with the track announcer. It was great fun with each of us going home with a class win. It was an excellent way to end the season for us and we cannot wait to tackle the track in 2024." – Kevin
---
---