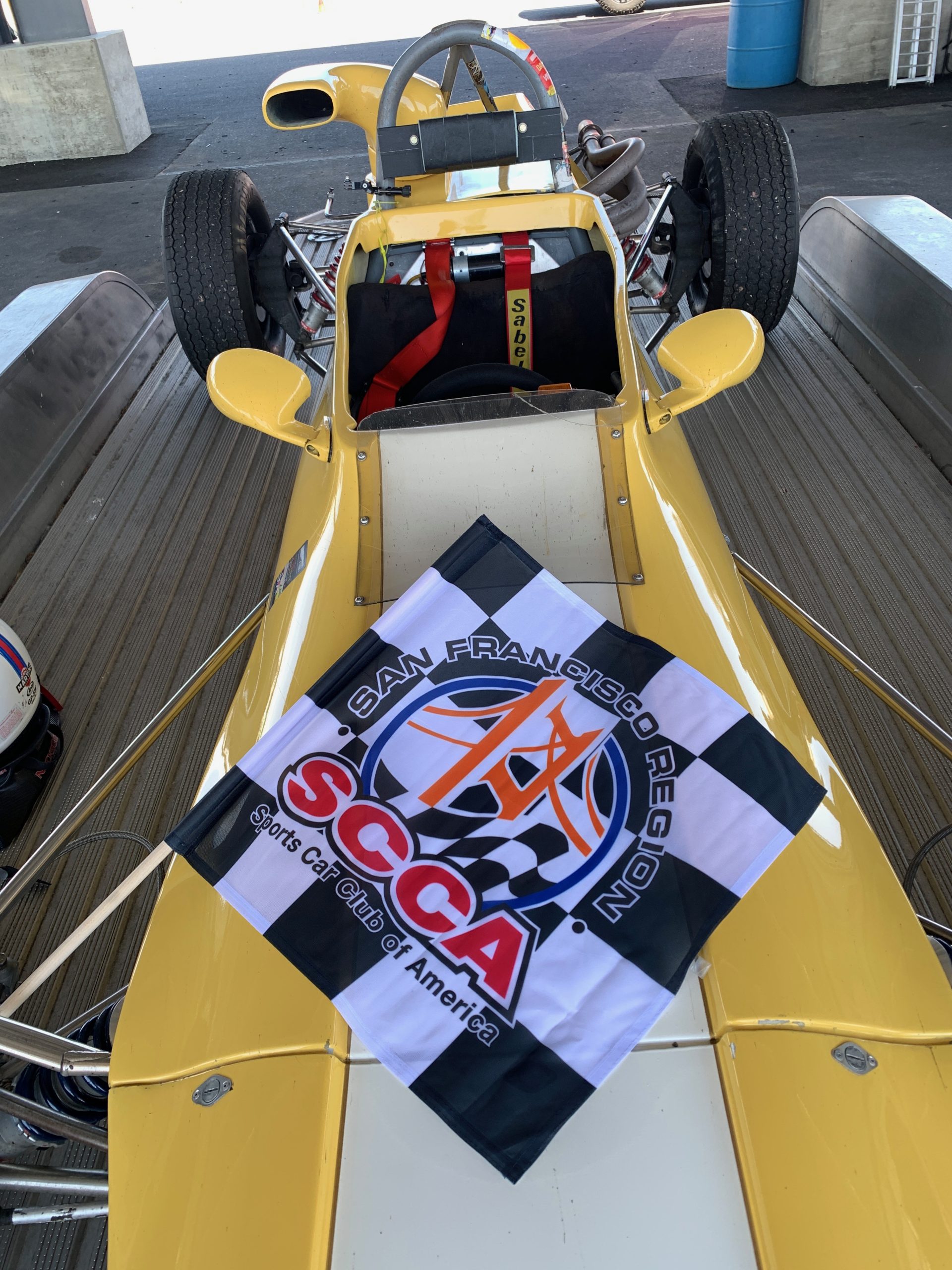 2023 Crossflow Cup Weekend Two at Thunderhill with SCCA
June 5th, 2023
June 2-4, 2023  Battle at Thunderhill!
"The second round of the Crossflow Cup Championship was held at Thunderhill Raceway Park, sanctioned by the SCCA and run in conjunction with their event the same weekend. 30 Formula Fords made up our grid. We were pitted, along with several FF's, under the new awning in the paddock. That was fabulous as track temperatures would later climb to 140 degrees. 
In qualifying for the first race we made it onto the front row. Bob Lesnett in his Crossle had too much speed for us and claimed the top spot. Andrew Wait and Steve Romak were right behind us. The start began with a green flag shortly followed by a yellow flag. Some saw the green while others then saw the yellow. That resulted in a confused restart with me pulling several car lengths ahead of Bob and the rest as we took the second green flag. It would not matter anyway as both Bob and Andrew would soon gobble me up and easily go by. We were able to hang onto 3rd place (2nd in Historic Formula Ford) by the skin of our teeth as Steve Romak drafted me down the straight and was virtually side-by-side with our Titan at the finish line. I was so focused on Steve gaining on me that I did not notice that Andrew had pulled the same move on Bob, and drafted by him by mere thousandths of a second to claim first overall with Bob first in Club Ford. 
Sunday morning I did some setup changes to the car to try and catch Bob and Andrew, and to try and stay ahead of Nick Colyvas and fast and getting faster Club Ford man, Brian Swanson. Unfortunately, Steve Romak would miss Sunday's race to attend a graduation event, as would Martin Lauber. Fortunately for Andrew and myself, my daughter and usual crew chief, Lindsey, and Andrew's son, Harry, would graduate the following week from Redwood High School, so we could sneak in the Thunderhill race.
We again qualified on the front row, this time behind Andrew. Poor Bob had fuel pick up problems and would have to start way down the order for the race. That would prove to be very entertaining. Bob would climb from 21st all the way to 7th overall and 3rd in Club Ford at the finish, behind Brian Swanson and Neil Porter. Well done guys!
When the green flag came out, and thankfully this time it stayed out, Andrew pulled away from the rest of us. Typical of Formula Ford racing though, Andrew could gap the rest of us by a few car lengths but couldn't totally get away. With the rest of us running in a pack we were able to reel him in at about mid point. From then on it was wheel-to-wheel racing, side-by-side, slingshot and re-slingshot, and many lead changes. 
Like in the old days of NASCAR, second place seemed to be the best spot to be in on the last lap. That way you could draft and try one last desperate lunge for the finish line while the leader tried to push their gas pedal through the floor. With one lap to go, I had a good draft down the straight behind Andrew. I could tuck in behind him into turn 1 and hope for the best drafting him down the final straight, or I could go for it now and try to hold him off for the rest of the lap. I was not disciplined enough to hold back so I went for it into turn 1. 
Andrew gave me room down the inside, but what he was really doing was setting me up for an over-under move, coming up the inside of me at the exit and trying to retake the lead down the inside for turn 2. He had done that to me earlier in the race and this time I was just able to hold onto the car enough to block that move. He then chased me for the rest of the lap and closed the gap to near zero going into the final turn.
Fortunately for me, Andrew caught me so quickly going into the last corner that he had to back off just a fraction to not tag my gearbox. Every little bit helped. As we exited the corner and headed onto one of the longest straights of my life, his red Titan just got bigger and bigger in my mirrors, and I pushed my gas pedal harder and harder. I also kept flicking my head back and forth searching for Andrew in my mirrors and waiting for his inevitable move. 
The finish line at Thunderhill is beyond the starter's flag. Beware celebrating at the checkered flag and backing off at the starter's stand only to watch the eventual winner pass a few yards later for the actual victory. As I squinted my eyes I could no longer see Andrew behind me. That meant he could only be coming alongside me, and with more speed than what I had. But how much? How soon?
We flashed across the finish line separated by thousandths of a second. I never saw his nose ahead of mine. Yes! a quick fist clench in the cockpit, and a salutatory wave to my all-too-worthy adversary.  Somehow this time we held on. If the race was one lap longer, or one lap shorter, the roles would have been reversed, and probably the results too. 
This is Formula Ford racing at its finest – great competitors, great racing, great people, and great fun. When Andrew and I exited our cars in the paddock we were both laughing, smiling, hugging, and agreeing that this was probably the greatest race of our lives… until the next one… :)" – Art
For more details about the weekend, check out the July issue of 'The Wheel', with Crossflow Cup on the cover and Group 8 at Thunderhill featured on page 32!