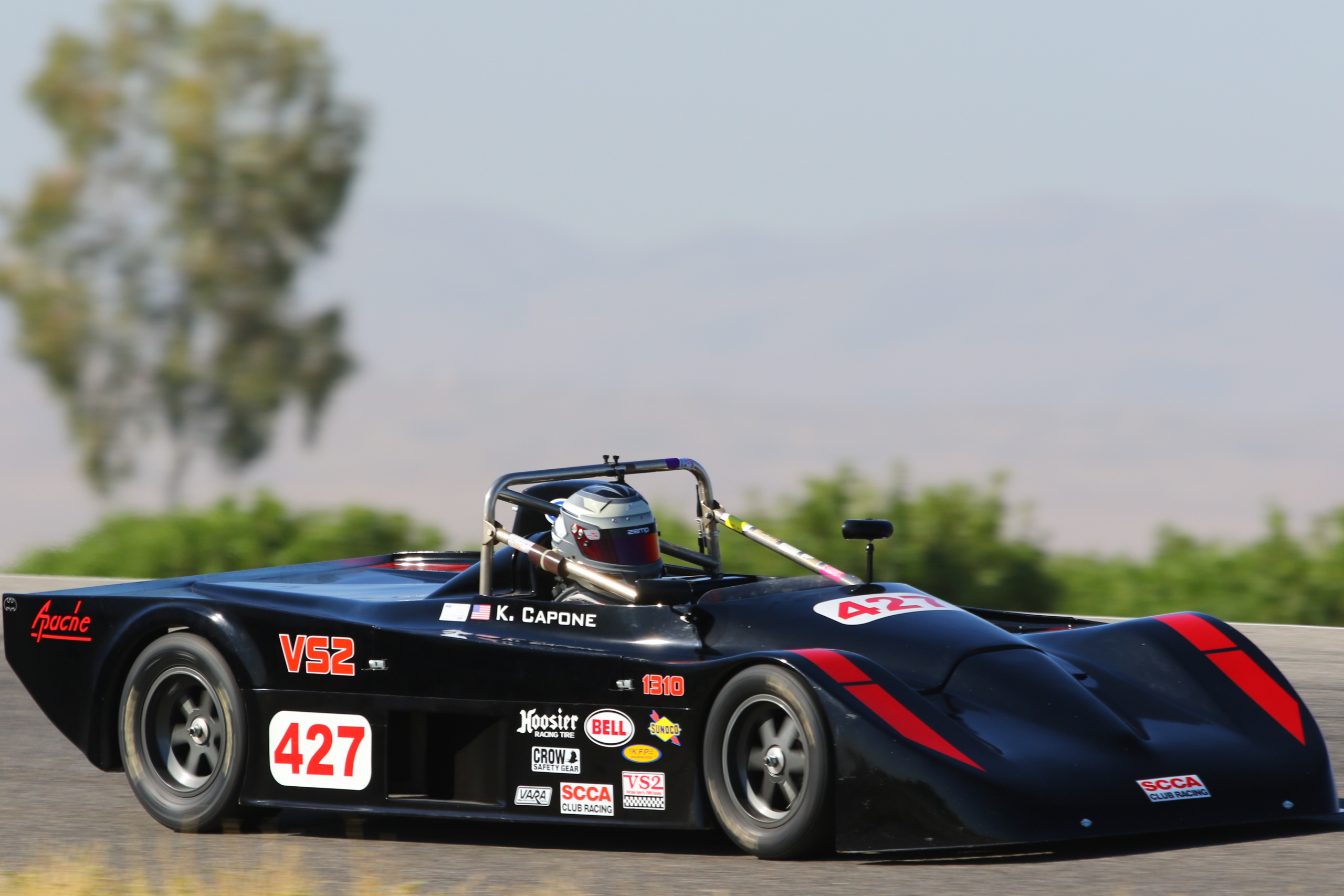 Getting Started in Vintage Racing – A Running Behind the Scenes Blog
May 21st, 2022
Follow along with Motorsports Market Vintage Racing Team member Kevin Capone as he journeys back into Vintage Racing!
thinking about getting into Vintage Racing?
Kevin has been a GIS Professional in the IT industry for the past 30 years and an auto enthusiast since childhood, having owned and restored several American and European sports cars. He grew up around the race track both on crew and driving in SCCA, IMSA and various other vintage racing events. He has performed ground up restorations on classic road cars and has raced both modern and vintage racing cars. Kevin is now getting back into racing, starting with a 1988 Chevron B67 Formula Continental and now his 1987 Apache S2000.
7) May 21st & 22nd 2022, Buttonwillow VARA British Extravaganza
1987 Apache S2000
"The race weekend started out great for the new to us Apache Sports 2000 having only received the car 2 months ago. Our first outing was the Friday test day before the race. The car shook down ok after 3-4 laps at relatively low speed just to make sure that everything stayed on the car and no major leaks. After a second test outing the car was low on power and we came in to discover that we were not getting full throttle when depressing the gas pedal. After some adjustments and ensuring full throttle travel, we buttoned up the car to get ready for the races on Saturday.
Saturday morning we were excited to try the car in the morning practice session and see if our throttle adjustments worked, and they did until we experienced a strange loss of power at various RPM's and locations on the track. After ending the session early and consulting with several people in the paddock we centered on a possible float level problem and proceeded to remove the top hat of the carburetor. Only to discover the entire top of the carburetor was loose and leaking fuel! Not a safe situation at all, and could have ended up a lot worse than just an underpowered car. We are extremely lucky and fortunate that we did not have a fire and we now have a new item on our pre-race checklist for future races.
After correcting our carburetor discovery we were ready for our qualifying session and excited…again…to try out our new car in earnest on the track and see where we would fair for the race. During the out lap, it was very apparent that we again were struggling with a throttle issue and we were not able to get even half throttle let alone full throttle. So we came into the pits without even completing one lap. Our previous throttle adjustments ended up being a larger problem with a slipping throttle cable mount at the gas pedal. So once we corrected the cable mount, or previous throttle adjustments had to be undone and we made the adjustments to ensure we once again had full beans when needed.
Without a qualifying lap, we started at the end of the grid for our Wings & Slicks Group 2 race a mixed classification of cars including Sports Racers and Formula cars including a Formula 5000, an Indy Car, and an F1 car with a BMW v12! Quite a collection. However, it was great to see that we had 6 Sports Racers in the bunch and we were looking forward to the race.
The car ran great and had power when needed and we started to get up some speed in the car and see what kind of personality the Apache has. It is a fun car, moves around more than our previous car the 1988 Chevron B67 Formula Continental, but has the same power band since they share the same engine platform. We were picking up speed and about halfway through the race, a missed shift ended our day early. While any missed shift can cause a multitude of problems and is never good, the car ran fine. No knock, no miss, and appeared to survive the over-rev. However, the oil pump failed for reasons still unknown, and the knucklehead behind the wheel did not see the oil pressure light or gauge exiting the fastest turn on the track. Needless to say, as we were coming around the Sweeper where a shadow engulfed the dash the bright red light was a beacon and my heart sank. As I depressed the clutch the motor seized in short time as my hand came up and I coasted to a stop luckily at pit entrance and I knew our weekend was over.
While we struggled with some issues early on during the race weekend we were able to figure out the problems and get them corrected. I would like to thank Rick Kirchner for his advice and amazing wealth of knowledge, Jason Wolpert for offering his help in any capacity, and Graham Collins and Ray Hulvert for helping me get a leaking caliper sorted a week before the race…which is another story altogether. A huge thanks goes out to John and Julie our pit-mates for their help, support, and ear-bending during the weekend as we explored different solutions to our problems. I'd like to thank Jeanette Bourke, everyone at VARA, and track support for an incredible event and their continued pursuit of safe and high-caliber racing. And a final thanks to my sons Colin and Ben, wife Cathy, and team Motorsports Market for supporting this crazy adventure and for crewing this wingnut of a driver.
We will be out for a little while as we get our engine rebuilt and punch list of items corrected, but we will be back hopefully by the end of the year. If not racing you will see me at the track helping VARA in any capacity that I can." – Kevin
---
⇑
6) January 22nd & 23rd 2022, Kevin attended his second weekend of training at the University of VARA High Performance Driving School.
---
⇑
5) November 2021 Willow Springs International Raceway 11/6 & 7, 2021
Art, Caitlin and Kevin's son Colin were all able to come out and crew for Kevin's last race of the season, where he ran a new PR!
---
⇑
4) July 2021 Buttonwillow Raceway 7/10 & 11, 2021
Kevin attended the University of VARA [2022 Dates Now Posted – Jan 22-23] High Performance Driving School! [https://www.vararacing.com/university-of-vara]
"The University of VARA is a driver school to obtain your competition license. It is the starting point for anyone looking to get into racing either as a hobby or a profession. There are other schools available in different areas of the country, and the University of VARA is the one we decided to choose because of location and expense. The weekend involves both classroom and on-track sessions that increase in speed and responsibility as you progress in your learning and knowledge, racing adventure and getting your rookie license. Classroom and track time, back and forth. It is a busy weekend. There are various groups defined based on car and driver experience so the learning is specialized per group due to different driver skills and car performance.
You are scrutinized every lap and then given suggestions and direction on how to improve, plus learn the aspects of driving a car fast. Learning the "racing line", your braking zone, turn-in point, apex, and turn exit. You learn how to best apply the throttle in different situations that vary per turn, per session, and per car. When and how hard to apply the brakes, what is understeer, what is oversteer, and how best to regulate each. You must learn the flags, what they mean, and what to do on track when certain flags are displayed, plus learn where all the course marshals are located. It is like being fed information with a fire hose and you have to drink it all in.
Throughout the day and weekend, you are given more freedom on the track depending on how the group is behaving. For our group, by the third session on the first day, we were allowed to pass at all passing zones defined for the weekend. We had to accomplish the pass by a certain mark for each zone, had to be safe. If not you would receive a black flag. Other groups had more limited passing zones until the instructors reach a comfort level within the group to open things up.
This particular driver event is normally held in January, the beginning of the year, and the start of the race season for VARA. However, due to the Pandemic, it was postponed and rescheduled for July 2021. Not the ideal time to be driving on the track because of the potential heat. Well, mother nature did not let up this July and the high temperatures for the weekend were 90+ degrees for the morning sessions, and over 115 degrees for the afternoon sessions.  It was extremely hot! All precautions were taken to limit heat exhaustion and everyone adhered to the hydration protocols in place. The VARA organization and Fire and Rescue teams were incredible and very promotive of keeping everyone cool. The volunteer instructors tried to make every accommodation and request especially during the heat of the day and for those of us without air conditioning in our cars. And the unsung heroes of any race weekend, the volunteer course workers had to endure the heat just like we did. My hat goes off to them. The weekend went off without a hitch, and many thanks to VARA for an incredible weekend, and to the fellow students for having a clean and fun event. I cannot wait to get back on the track and compete with these fine people. Thank you to all." – Kevin
---
⇑
3) May 2021 Buttonwillow Raceway 5/15 & 16, 2021
Fastest laps in qualifying –  Sunday  1:53:9 / Saturday 1:58:8
---
⇑
2) March 2021 Willow Springs International Raceway 3/13 & 14, 2021 – VARA High Desert Challenge
Kevin ran his Formula Continental in the High Desert Challenge at Willow Springs International Raceway (WSIR) March 13-14 on the Big Willow course. Last time he was on that track was 30 years ago for SCCA Drivers School! We ran 6 sessions over the race weekend with a practice, qualifying, and race each day. The car ran excellently, we could not have asked for better and Kevin was able to improve every session he went out, dropping his time about 10 seconds from Saturday morning to the last race on Sunday afternoon. Art and Gunnar of course got out on the track for a few runs as well. The weekend was all about continued improvement, getting comfortable in the car, and most importantly having fun. The next event for Kevin and the Chevron B67 will be May 15-16 at Buttonwillow Raceway.
---
⇑
1) December 2020
Kevin brings home the 1988 Chevron B67 Formula Continental, also known as a Formula Ford 2000. The car is 1 of 5 produced and we have chassis #4.