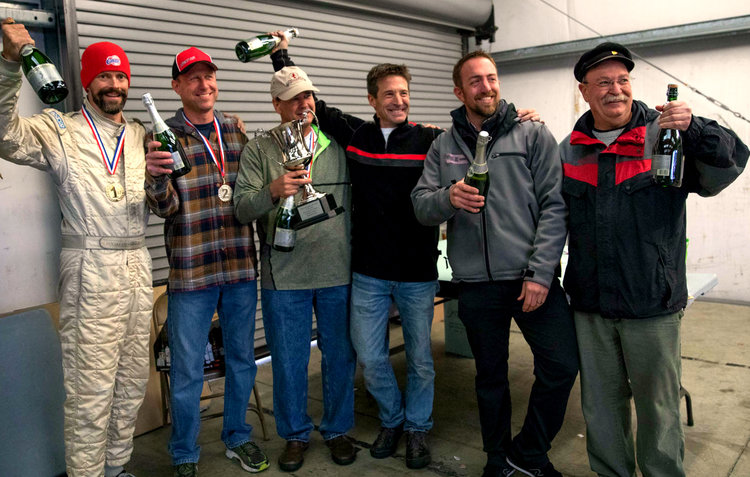 Historic Formula Ford Racing Records (2019 … 2017)
January 1st, 2019
April 28, 2019 – David Love Memorial (Sonoma)
17 year old Gunnar Hebert ran a flawless, perfectly judged weekend, his first at Sonoma, his first in a Formula Ford and his first race after a stellar performance at the SCCA driver's school.
---
March 31, 2019  – Laguna Season opener
Group 2 qualifying saw Art Hebert on the historic and overall pole, .2 sec head of John Hill, followed by Andrew Wait, Martin Lauber, Chris Porritt, Dave Zurlinden, Todd Strong, Danny Baker, Ed Lauber, and Laurent Parmantier all separated by less than a second.
---
2018 – The Historic Formula Ford Championship
Podium was headed by Series Champion Art Hebert, followed by Martin Lauber and Andrew Wait (presented by racing Legend Lynn St James).
---
September 21, 2018 – The Crossflow Cup (Portland) round 4, at the Columbia River Classic hosted by SOVREN.
In the end the Historic Ford Podium saw Art Hebert in P1, followed by Tom Kreger, and Andrew Wait.
---
May 31, 2018 – Thunderhill Race Report
The top 7 drivers, led by Ethan Shippert at a 1:59 (fastest lap of the weekend) and Todd strong in their Club Fords and then Art Hebert on the Historic pole, followed by Martin Lauber, Dan Cowdrey, and Andrew Wait. [Championship] Art Hebert, Martin Lauber and Dan Cowdrey maintain the top three positions in Historic ford.
---
May 3, 2018 – Sonoma Race Report, the Soggy David Love Memorial
Qualifying Art Hebert posted a sublime 1:58 for pole … In the end, Art Hebert, followed by Martin Lauber and Danny Baker made up the Historic Podium.
---
March 17, 2018 – Laguna Report
The Historic Podium was Dan Cowdrey, Art Hebert, and Danny Baker, the Club Podium was Todd Strong (a sublime overall P1)  Eric Inkrott and 2017 Crossflow award recipient Dan Wise in P3.
---
November 1, 2017 – 2017 Series Wrap up
Art Hebert celebrated a fantastic run at the Series Finale.
---
2017 – Sonoma Charity Challenge
Qualifying saw Art Hebert set a sublime 1:47.3, in his Titan Mk 6, surpassed only by Ethan Shippert in his Club Ford who cracked open the 1:46's.
In the end, the Historic Ford Podium was Art Hebert, Martin Lauber and Dan Cowdrey, the Club Ford Podium Todd Strong, Tom Duncan and Eric Inkrott.
---